ANKMAX UC312M2 M.2 NVMe+SATA SSD Enclosure Adapter
USB3.1 Gen2 10Gbps to NVMe PCIe /SATA (NGFF) M-Key(B+M Key), Support UASP Trim for SSD Size 2280/2260/2242/2230, Tool-Free Aluminum USB C Solid State Drive External Enclosure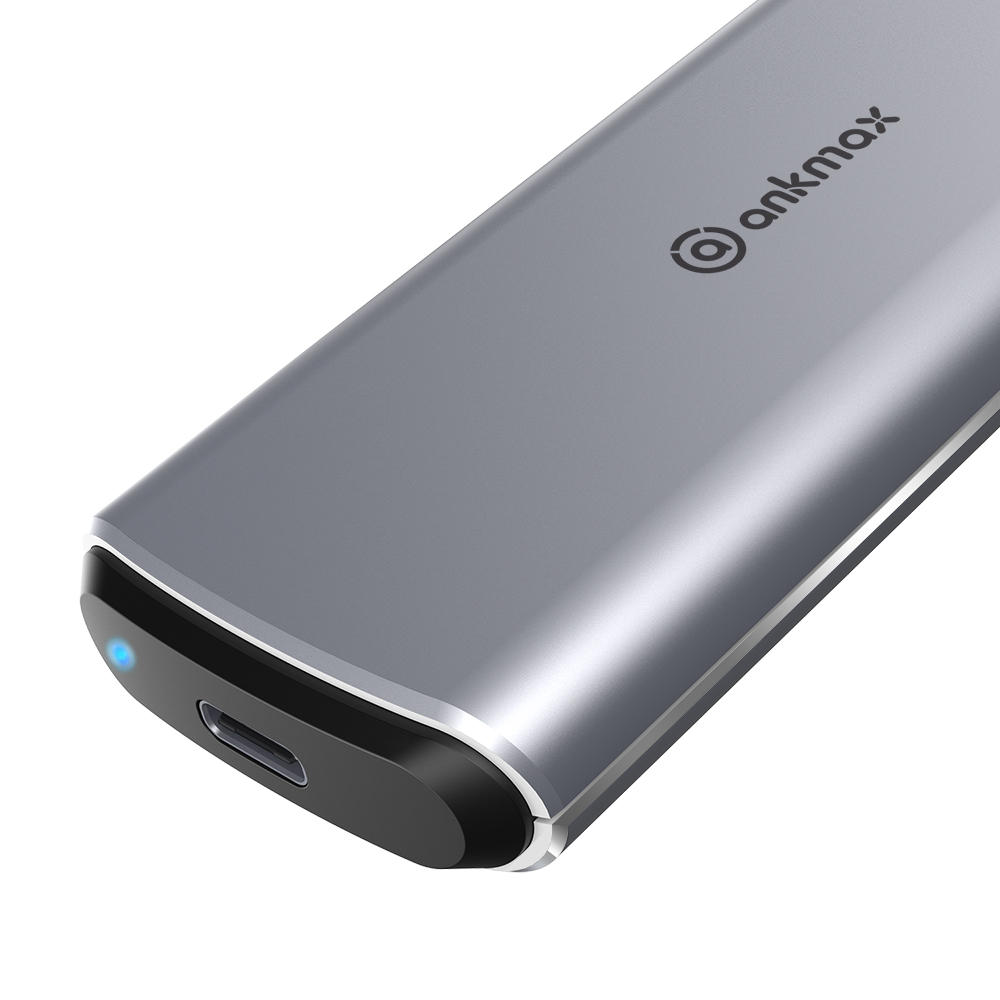 USB3.1 High Speed
With the USB 3.1 Gen2 interface, it can achieve up to 10 Gbps extreme speed performance on devices with USB C or Thunderbolt 3 interfaces. The actual transfer speed is up to 930MB/s, which is 6-8 times faster than a traditional external HDD. Transfer and backup large data files and 4K videos in a matter of seconds.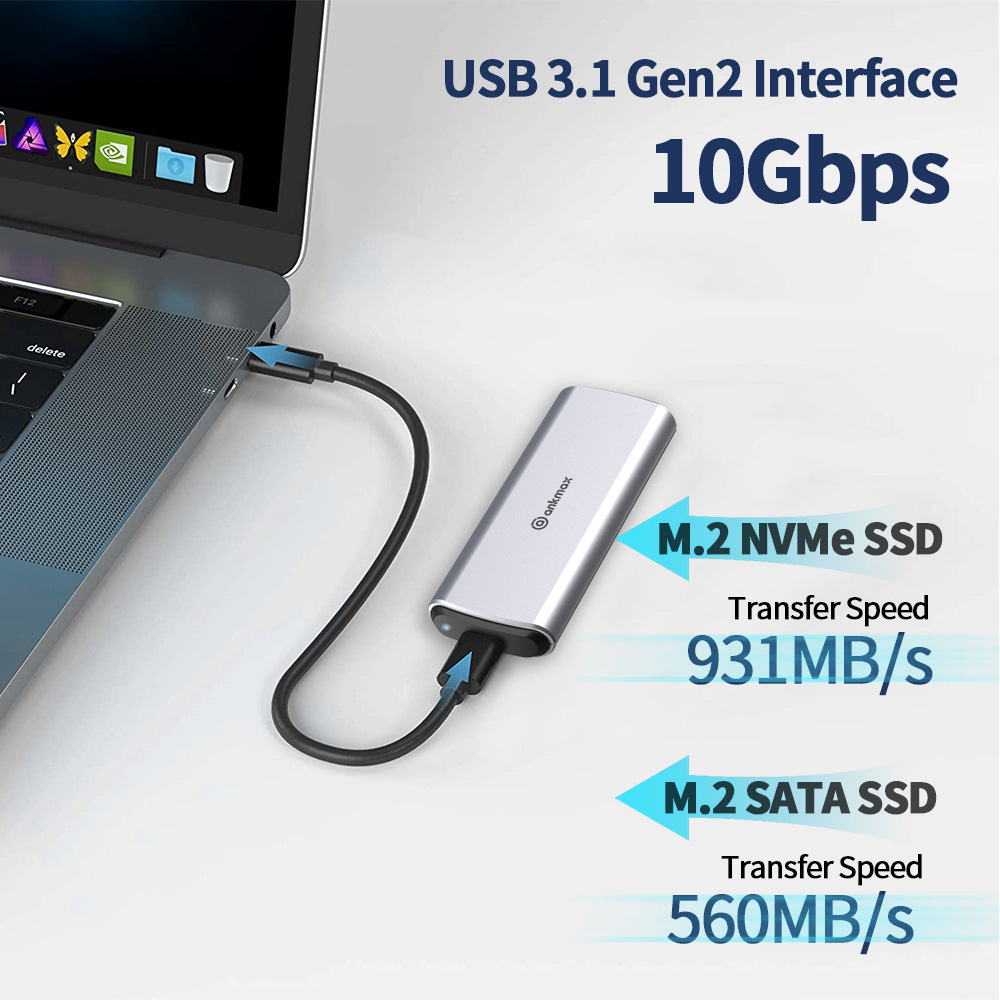 Using the latest high-performance controller chip (RTL9210B), high-speed data transmission up to 10Gbps can be achieved.
When connected to a Thunderbolt 3 or USB 3.1 Gen 2 port, the speed of reading and writing up to 930 MBps, and 1GB files only take 1 second.
Complies with UASP Trim, which can effectively increase the speed and extend the life of the SSD.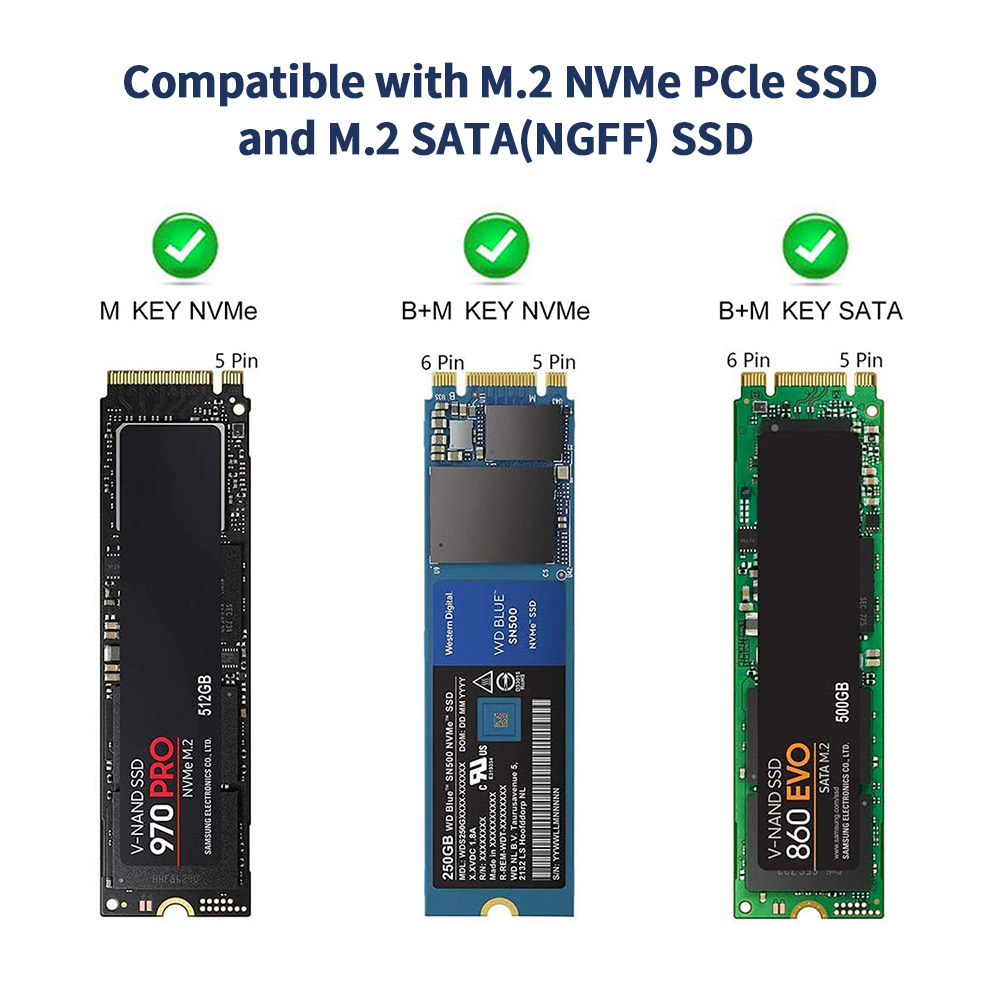 Applicable SSD
This M.2 SSD Enclosure for NVMe M-Key M.2 SSD (PCIE-based), also support M.2 SATA (NGFF) based SSDs.
Note: The product does not include NVMe and SATA SSD.
Does not support M.2 PCIe AHCI SSDs, M.2 PCIe devices such as WiFi and capture cards, mSATA SSDs, and non-M.2 form factor SSDs.
Compared with USB SATA SSD external hard disk enclosures and USB 3.0 flash drives, the reading speed is 5-8 times faster, which will greatly improve the efficiency of use.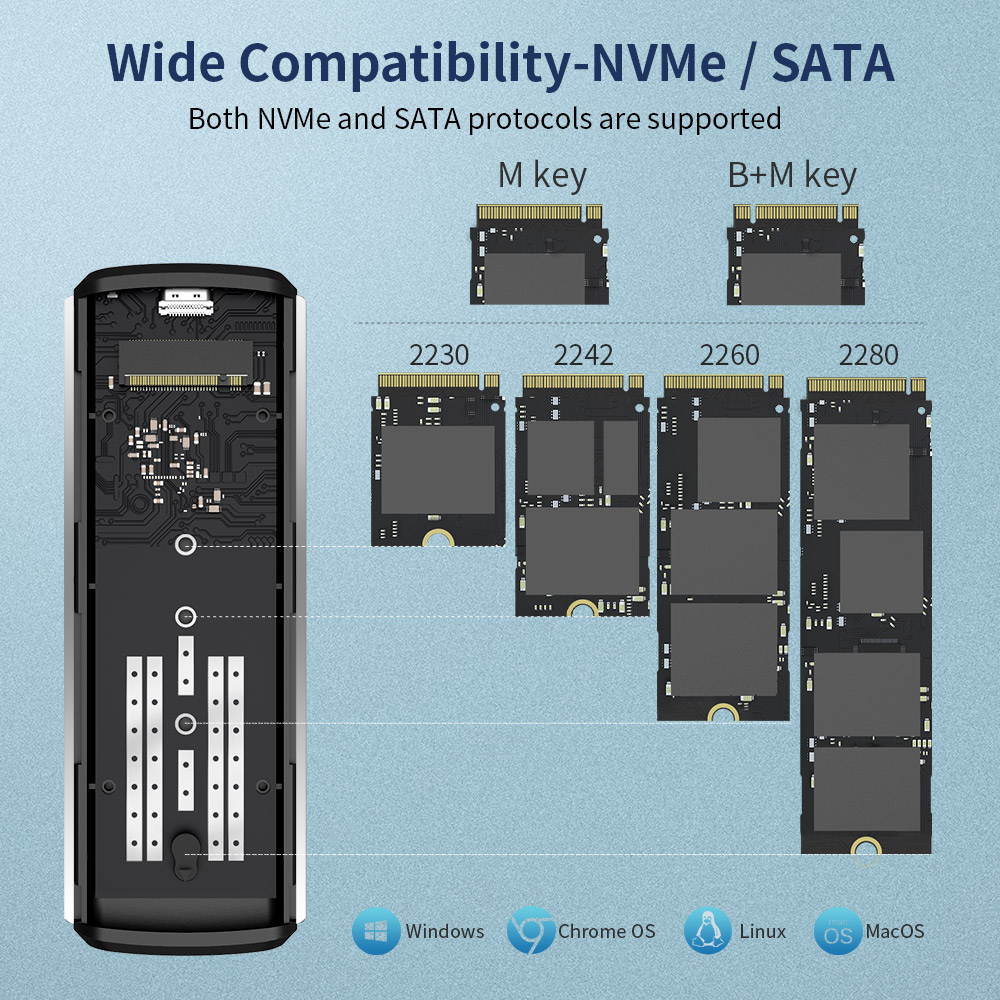 Suitable for 2230/2242/2260/2280 4 sizes of M.2 NVMe and SATA SSD solid state drives.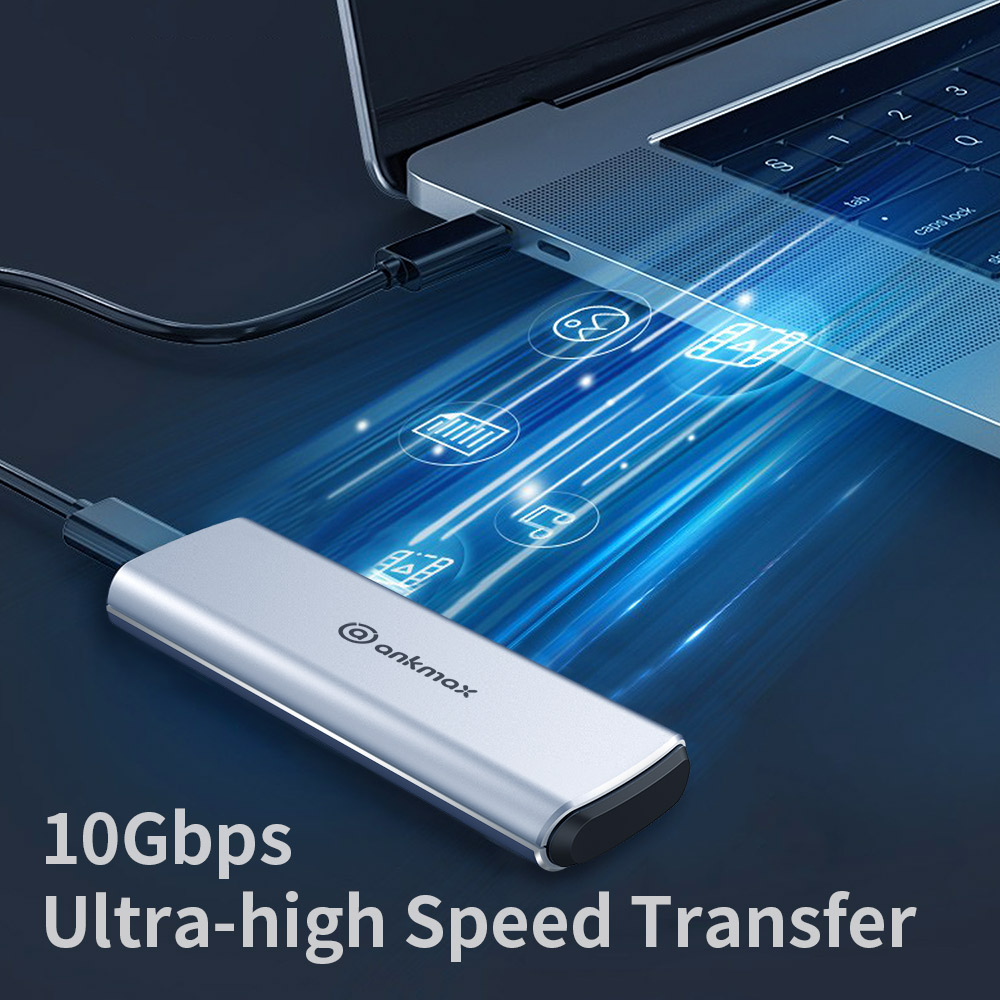 Latest High Quality Master Chip
Using the latest high-performance controller IC RTL9210B chip, it can support two M.2 NMVe and SATA SSD at the same time, and can accommodate up to 2TB of storage (not included). Support UASP, Trim, can effectively improve the speed of SSD and extend its service life.

Samsung 970 EVO NVMe SSD 250GB Speed Test WINDOWS AND MAC OS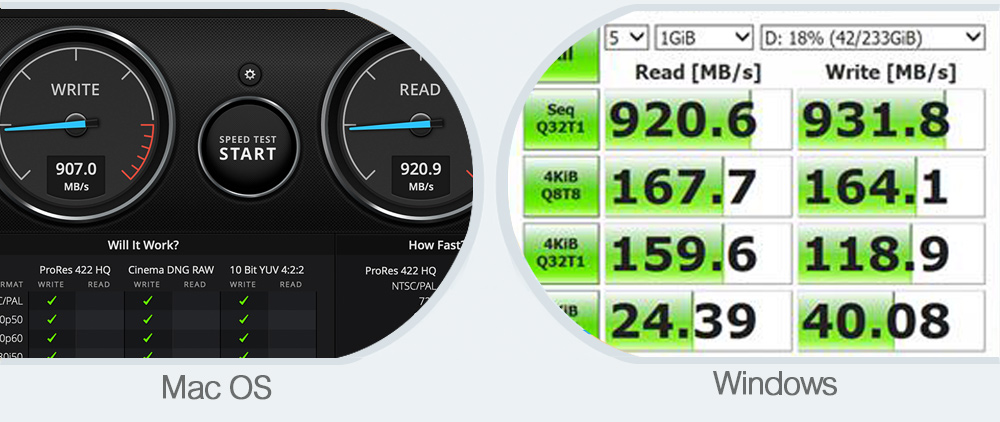 Samsung 860 EVO SATA SSD 250GB Speed Test WINDOWS AND MAC OS
Capable of read and write speeds of over 930 Mbps, depending on the SSD used, and when connected to a Thunderbolt 3 or USB 3.1 Gen 2 port. Over 200% faster write speeds and over 180% faster read speeds than leading SATA SSD external enclosures and USB 3.0 flash drives, making long wait times a thing of the past.
Back up your photos and watch movies anywhere and anytime.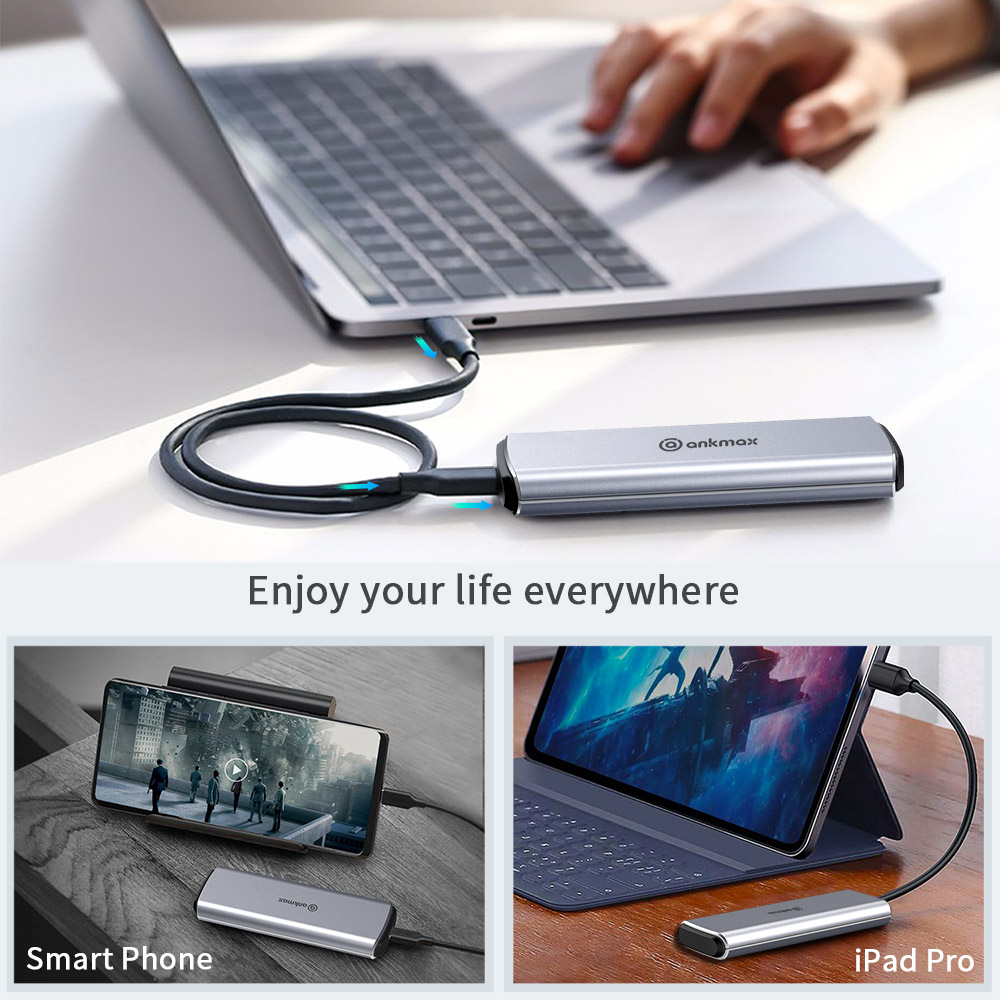 Compatible with multiple operating systems Windows, Mac OS, Linux, Android, iOS.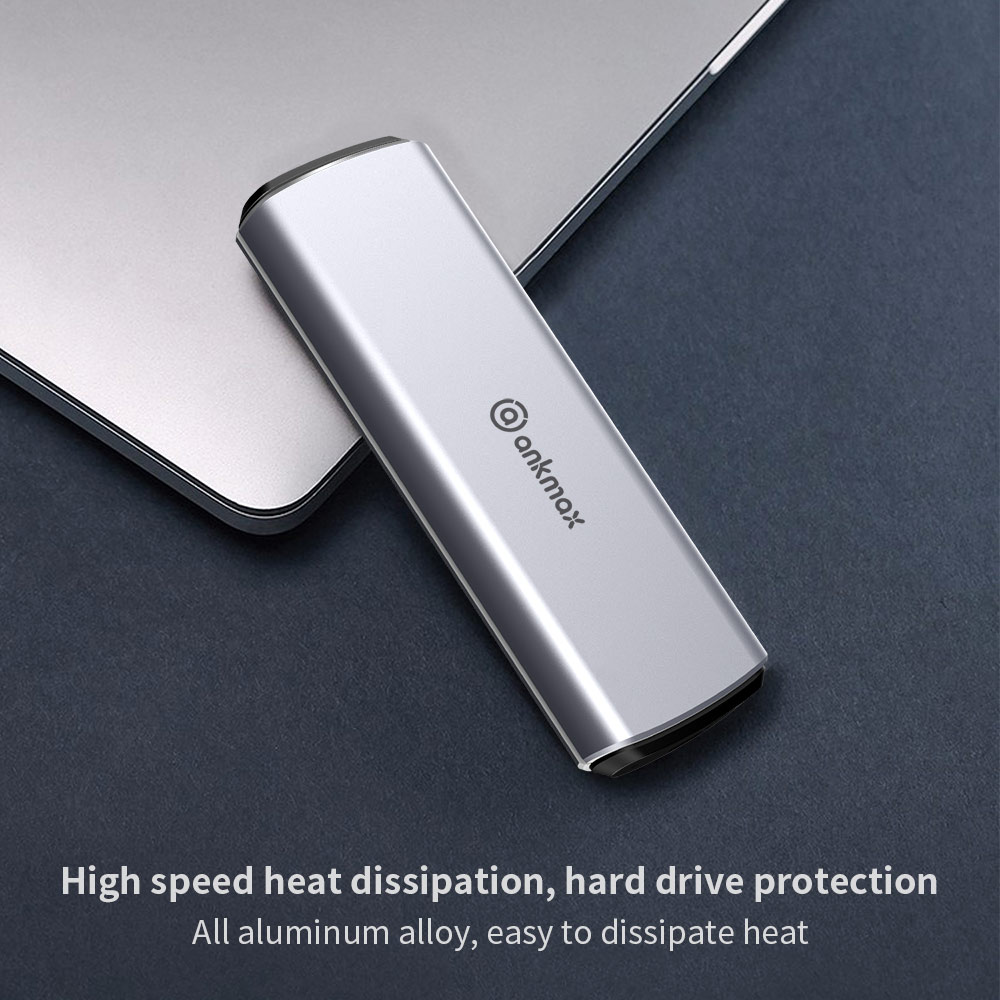 Fashion Design
With aluminum alloy shell, ultra-thin design, easy to carry and carry. Each product is individually manufactured from high-grade aerospace aluminum alloy using computer CNC, with strong durability and heat dissipation. This unique aluminum housing prevent the drive from overheating, thereby ensuring the drive has a long life.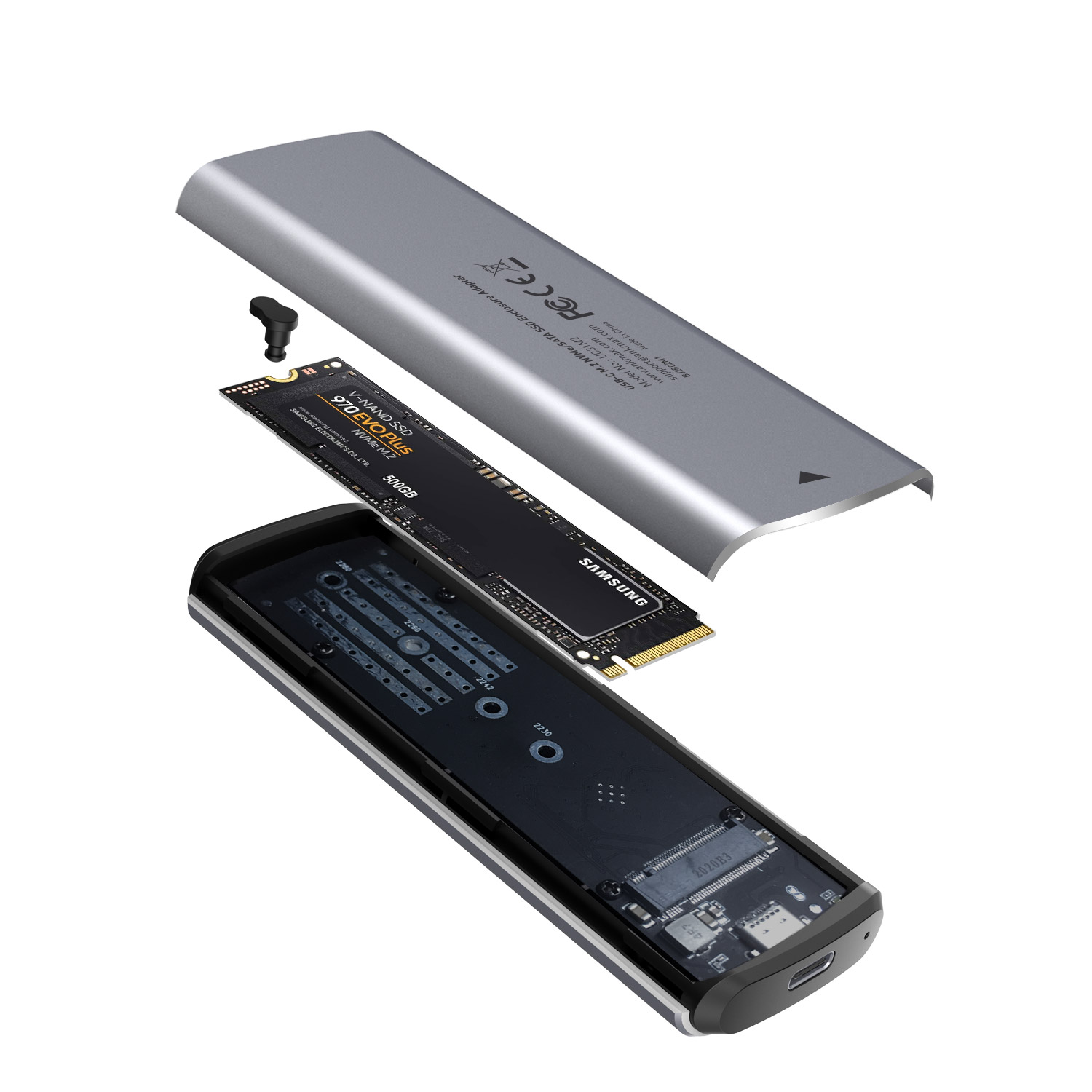 Aluminum Alloy Shell
Ultra-slim aluminum alloy sandblasted shell. Sleek, Durable, and Convenient. HEAT MANAGEMENT - Professional Aluminum Case. Designed for optimal heat dissipation and reduced power consumption.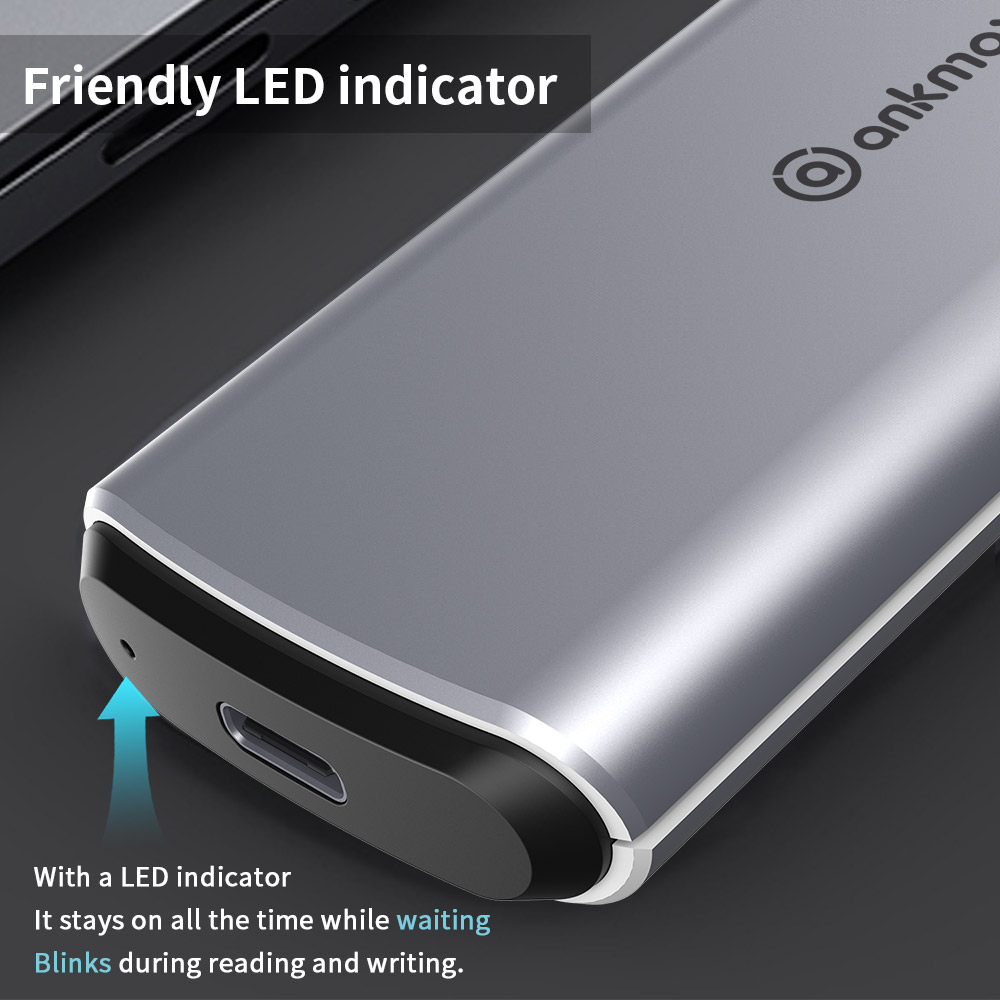 Friendly LED Indicator
With a LED indicator. It stays on all the time while waiting. Blinks during reading and writing.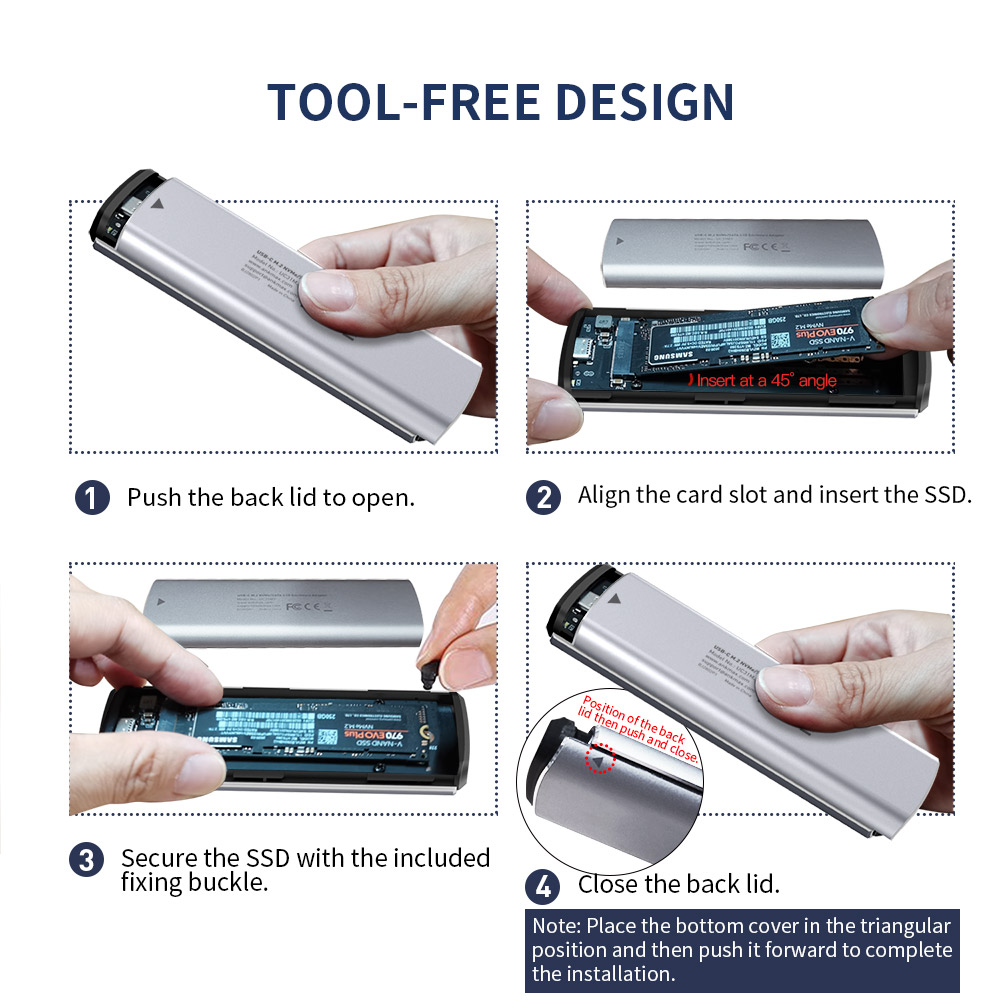 Tool-free, Driver-free
The tool-free design of the USB C to M.2 Enclosure allows quick installation of M.2 NVMe or M.2 SATA SSD in just a few seconds without any other tools. Easy setup-hot-swappable, plug-and-play, no driver required.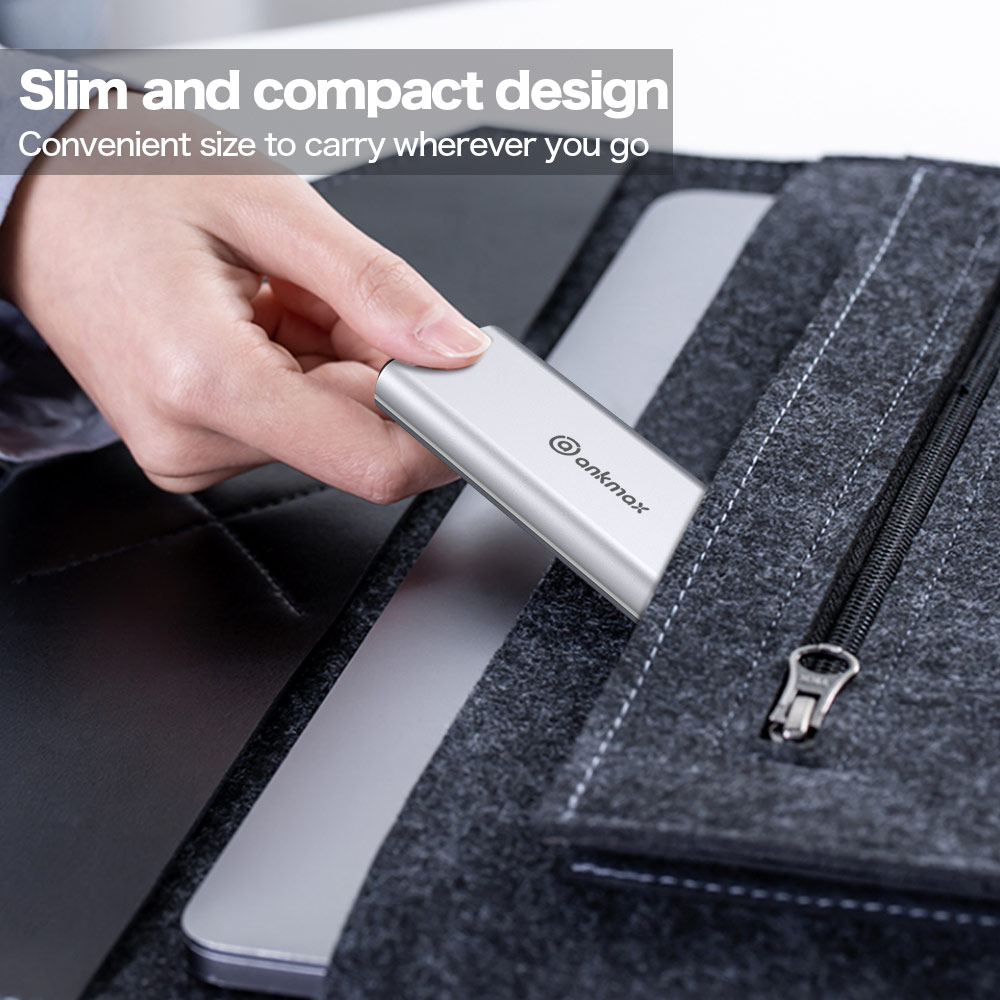 Slim and Compact Design
Portable yet durable, ideal for traveling.Convenient size to carry wherever you go.
Quality Guarantee
12 months quality guarantee, stable output, high temperature protection, over current protection and short circuit protection.You can also register the product on the official website of ankmax and get a total of 24 months of warranty.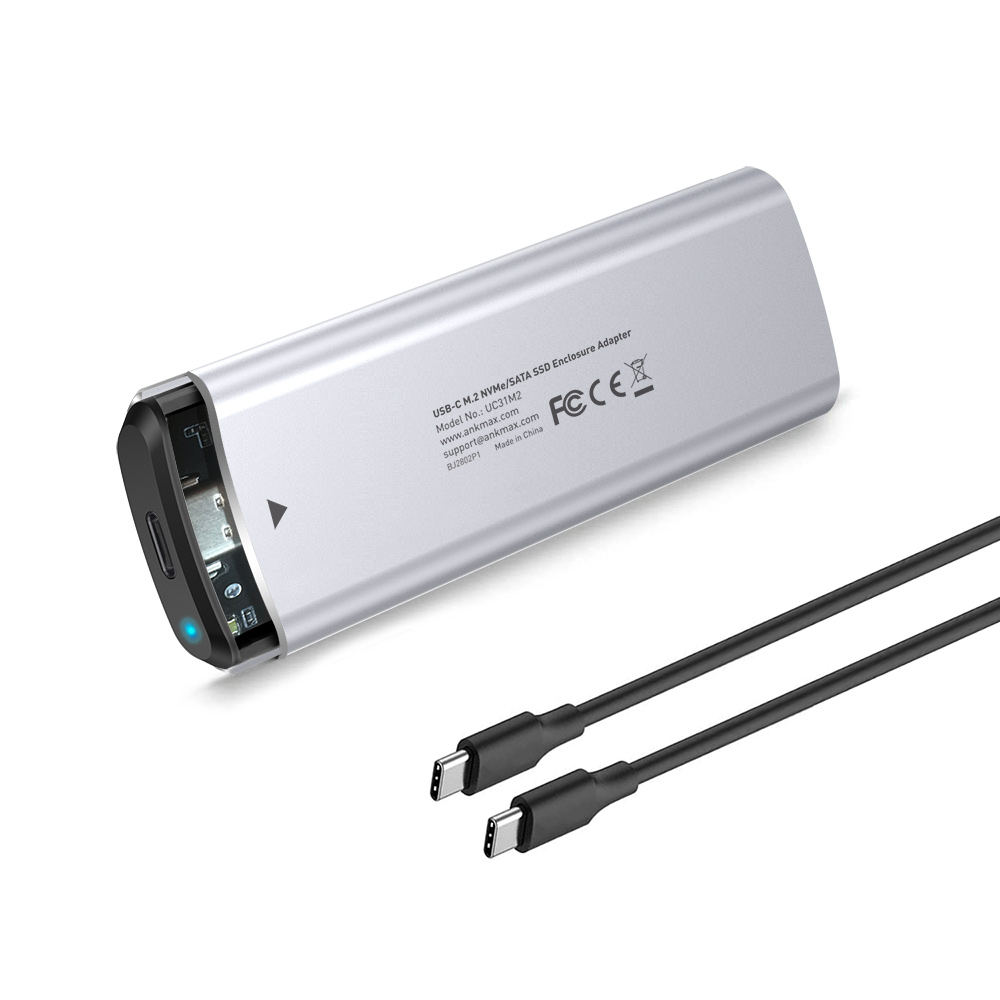 Compatibility
SSD Requirements
This product is an enclosure only. Compatible SSD storage must be purchased separately.
Compatible with NVMe M.2 SSDs and SATA M.2 SSDs.
Not compatible with M.2 PCIe AHCI SSDs, mSATA SSDs or non-M.2 form factor SSDs.
M.2 NVMe/SATA SSDs with B-key and M-key cutouts are 2x PCIe Lane devices and will work in this enclosure but may have significantly reduced performance compared to 4x PCIe Lane NVMe SSDs.
System Requirements
USB 3.1 Gen 2 is required for 10Gb/s connection speed (actual drive speed may vary due to media and file system overhead, and different brands and models of SSDs).

USB 3.1 Gen 1 or USB 3.0 maximum connection speed 5Gb/s.

USB Type-C, and Thunderbolt 3 compatible (If your computer only has USB Type-A interface, you can buy a ANKMAX USB A to C adapter UA312C).

Operating system compatibility: Windows, Mac OS, Linux Android and iPad Pro.
Amazon purchase discount
https://www.amazon.com/gp/product/B08DNZHQDN